Your Horoscope
Sign up for a free account to get quick and easy access to all your favorite Horoscopes. Choose from a wide selection of Horoscopes covering the important areas in your life. Gain valuable insight into your love, romance, fashion and career issues. As a registered member, you will also have access to unlimited Tarot Readings.
or
---
Tarot Readings
Get your free daily 3-card Tarot Reading.
Start Your Reading
---
Moon Phases
Full Moon:
December 6
New Moon:
December 21
Live Advice 3 Free Minutes
Live Advice
---
---
Free Horoscopes
Popular Readings
Love Horoscopes
Nothing but your own choices and decisions will determine your future, but your horoscope can help to give you clarity. This is where love horoscopes can be the most useful; not in providing a definitive view of the future, but in empowering you to better recognize the influences that play upon your thoughts and actions.


Daily Tarot Card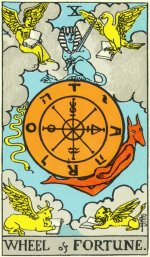 The Wheel of Fortune
The wheel of fortune is turning in your favor. Many projects can now enjoy great success. Soon be time to reap benefits of what you are sowing. A cycle is continuing. Success. Unexpected luck. Happiness. Something new is emerging and will bring new and exciting energy. Opportunity. Have faith in what is happening at the moment. Divine forces at work to bring good fortune into your life. Trust in the cycle of life. Possible new money on the way.
Astrology
The Sun determines how others see you. It represents your general personality and individuality. The Sun sign in your birth chart symbolizes your capacity to influence others, as well as your ability to impress. There is more to astrology than just your horoscope...