Horoscopes
Popular Readings
Love Horoscopes
Nothing but your own choices and decisions will determine your future, but your horoscope can help to give you clarity. This is where love horoscopes can be the most useful; not in providing a definitive view of the future, but in empowering you to better recognize the influences that play upon your thoughts and actions.


Daily Tarot Card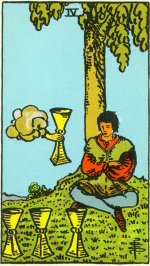 Four of Cups
Structure in relationships. Roles strictly defined in work, love or family. Important to stay in role and carry out duties. Possible to develop new friendship but will remain only a friendship. Need to establish boundaries with partner or children. Things have been out of control and new definitions of roles and expectations are required. A feeling of oppression looms in your relationships.
Astrology
The Sun determines how others see you. It represents your general personality and individuality. The Sun sign in your birth chart symbolizes your capacity to influence others, as well as your ability to impress. There is more to astrology than just your horoscope...