Horoscopes
Popular Readings
Love Horoscopes
Nothing but your own choices and decisions will determine your future, but your horoscope can help to give you clarity. This is where love horoscopes can be the most useful; not in providing a definitive view of the future, but in empowering you to better recognize the influences that play upon your thoughts and actions.


Daily Tarot Card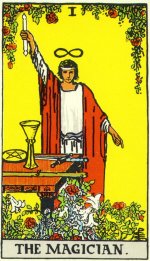 The Magician
Alchemy. Creation. Beginning. Mastery of the four elements of fire, earth, air and water. The Magician is the Master Creator of the Tarot with his ability to forge a new path with seeming effortlessness. The magic of the Magician is that he uses all the tools in his possession to create what he wants and the elements bend to his will. With the universal symbol of infinity over his head the Magician's power is endless.
Astrology
The Sun determines how others see you. It represents your general personality and individuality. The Sun sign in your birth chart symbolizes your capacity to influence others, as well as your ability to impress. There is more to astrology than just your horoscope...