Love Horoscope
Your Daily Love & Romance Horoscope looks at your love potential and compatibility for the coming days and weeks ahead. Wondering whether a new relationship is going to sizzle or fizzle? Are the sparks going to fly with your current romantic partner? Select your Sun Sign from the list below to view your Horoscope.
Popular Readings
Love Horoscope
Men & Love Horoscope
Many men wonder exactly how they can communicate with women in the best way. When you want to get romantic with a woman, not every woman appreciates the same approach. Some women like flowers and candlelight and other women really like someone who greets them with a simple home cooked meal and a neck massage. Knowing how to romance the woman that you love by her sun sign love horoscope will help you communicate successfully with her. It is like the two of you are speaking the very same language when you know how to romance her properly.

Women & Love Horoscope
Many women, single or married, are curious to know the best way to connect with the men in their lives. Married women would like to know how to understand their husband's personalities better. Single women would like to discover how to find the best mate. Through sun sign love horoscopes, you can learn tips for romance for each sign that will help you relate to the man in your life.

You don't have to be told that every man is different: there are some men that respond well to a woman who cooks for them and there are men who want a woman who is actually a little critical of them. The different sun sign horoscopes have various characteristics and each man will have a different definition of what romance means to him. Knowing his definition of love helps you to connect with him on a much deeper level.
Daily Tarot Card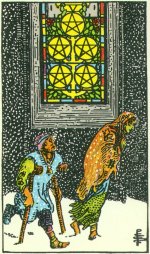 Five of Pentacles
Things are starting to look up in your finances. Ways to gain new money and build on capital are possible. It is possible to rebuild or repair a relationship that had been lost. Time of strain is over and new hope is born. Possibility a regaining of health. Recovery is slow but steady and brighter days are ahead. A lost loved one may be returning.
Astrology
The Sun determines how others see you. It represents your general personality and individuality. The Sun sign in your birth chart symbolizes your capacity to influence others, as well as your ability to impress. There is more to astrology than just your horoscope...