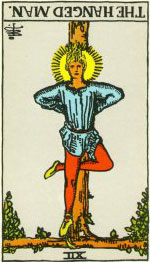 The Hanged Man Reversed
Movement. Becoming unstuck and moving forward. Consideration of viewpoints and attitudes of others. Period of suffering ending. Ready to get on with things and back in the game. An opening of mind and heart. The end of a difficult time or cycle. Illumination. The way out has been discovered and is ready to be acted upon. Conformity. Allowing other's opinions to overrun your own. Things are turned upside down, but may appear right-side up. Look closely to discern how things really stand.
The Sun determines how others see you. It represents your general personality and individuality. The Sun sign in your birth chart symbolizes your capacity to influence others, as well as your ability to impress. There is more to astrology than just your horoscope...