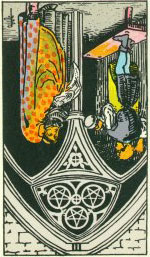 Three of Pentacles Reversed
Someone on your team is not pulling their weight. Part of your financial backing has been lost or is unstable. One person seeking all the credit for something others have also given contribution to. A person who is hesitant to reveal financial trouble. Someone distrusting another's motives. You may be performing work that is not up to the standards of other people.
The Sun determines how others see you. It represents your general personality and individuality. The Sun sign in your birth chart symbolizes your capacity to influence others, as well as your ability to impress. There is more to astrology than just your horoscope...