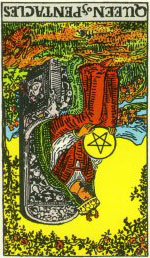 Queen of Pentacles Reversed
A woman who has lost touch with her generous nature. Someone who distrusts herself and others; she may become reticent and quiet in a crowd. Someone hiding their natural talents and gifts, afraid to be judged. A person who has lost interests in their normal activities. Sick at heart. A woman who is not able to build financial security in the world. She may look to others to pay her bills.
The Sun determines how others see you. It represents your general personality and individuality. The Sun sign in your birth chart symbolizes your capacity to influence others, as well as your ability to impress. There is more to astrology than just your horoscope...