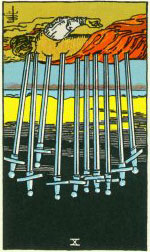 Ten of Swords Reversed
The darkest time is at hand. The worst is over. Time to regroup. Feeling as though someone has stabbed you in the back. You were the sacrificial lamb in the matter. What you want has taken a back seat to everyone else's needs. Destruction of the old ways. Things can't get any worse than they already have been, but they can now get better. End of a cycle. Fate.
The Sun determines how others see you. It represents your general personality and individuality. The Sun sign in your birth chart symbolizes your capacity to influence others, as well as your ability to impress. There is more to astrology than just your horoscope...