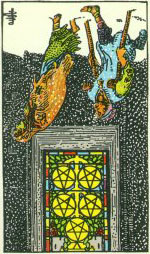 Five of Pentacles Reversed
Financial trouble. You have lost financial as well as emotional assets. Feelings of isolation. Being ostracized. You have lost face with someone or in your community. Could be ill health. Exhaustion from pushing too hard to reach your goals. Loss of income or job. A feeling that you deserved and got what you had coming to you. End of a cycle, but a new one may now begin.
The Sun determines how others see you. It represents your general personality and individuality. The Sun sign in your birth chart symbolizes your capacity to influence others, as well as your ability to impress. There is more to astrology than just your horoscope...