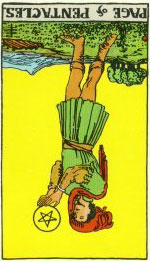 Page of Pentacles Reversed
A young man who squanders his money. Someone not able to stick to one thing until it is finished, perhaps in studies. Feeling there is a piece of a puzzle missing, and it is just beyond your grasp. A dream that you cannot manifest no matter how hard you try. Taking something too lightly, you need to see the seriousness of a situation. A lack of maturity and foresight.
The Sun determines how others see you. It represents your general personality and individuality. The Sun sign in your birth chart symbolizes your capacity to influence others, as well as your ability to impress. There is more to astrology than just your horoscope...