Horoscope & Tarot App
Get the best selection of daily horoscopes and tarot card readings for free on your iPhone or Android device!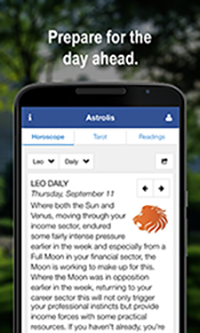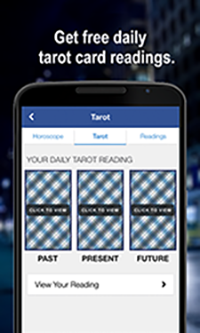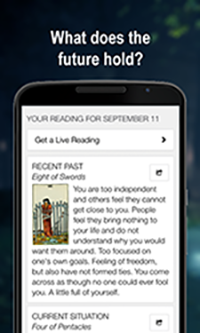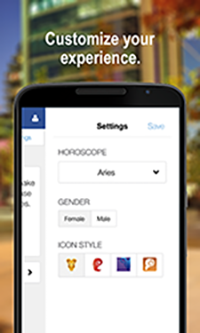 What You Get
WIDE VARIETY OF HOROSCOPES
Reading your daily horoscope is a great way to start the day, but it doesn't give you all the information you need. That's why we provide many different types of horoscopes, covering everything from love and romance to career and money issues.

TAROT CARD READINGS
Looking for insight into a particular question or issue in your life? Tarot cards can help to explain your current situation and anticipate future events. In this app you get a free daily three card tarot reading. This is a personal tarot reading, not one for everyone sharing your zodiac sign. It allows you to select three cards, one for your Recent Past, one for your Current Situation and one for your Future Influences.





DAILY OUTLOOK
Looking for a quick summary of some key issues in your life? With our simple 5 star system, you get individual ratings for your Money, Energy, Love and Mood outlook.

LOVE COMPATIBILITY
Wondering who you are most compatible with today? Your daily forecast tells you which zodiac sign you are being drawn towards.

CUSTOMIZATION
Once you install the app, you can set your zodiac sign and choose a stylish sun sign icon. Once set, your customized forecasts will be available every time you open the app. No need to navigate around trying to find your zodiac sign.

VIEW ALL SIGNS
Interested in reading someone else's outlook for the day? You can quickly and easily view any of the 12 zodiac signs from within the app. Plus, you have the option to send your friend their forecast by email.

SHARE YOUR OUTLOOK
Is there a forecast that resonates with you or is relevant to a situation you are currently in? You have the option to share it on Facebook and Twitter or send it to someone privately by email.
But don't just take our word for it...
★★★★★ Sheila B.
"I have not found any horoscope or tarot reasons that was this right on. I love having the combo of horoscope and tarot in one reading. It is very accurate and follows the things going on in my life."
★★★★★ Jordan R.
"This app (and team) are phenomenal. I'm not sure what cosmic juice they're sipping, but it sure is potent. They're on point practically all of the time. Other apps have generalistic hoo-hoo, this one cuts to the chase. Plus the classic Tarot spread just creames the cake. Blessings."
★★★★★ Michelle P.
"I've checked out other horoscope apps, and this one by far is the best one I've seen. It's uncanny how accurate my readings have been everyday!!!! I'm definitely a believer!!!!"
★★★★★ John M.
"A rare horoscope app that is both accurate and applicable to both the trivial and consequential issues of daily life. Attractive and easy to use."