Horoscopes
Popular Readings
Love Horoscopes
Nothing but your own choices and decisions will determine your future, but your horoscope can help to give you clarity. This is where love horoscopes can be the most useful; not in providing a definitive view of the future, but in empowering you to better recognize the influences that play upon your thoughts and actions.


Daily Tarot Card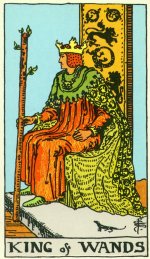 The King of Wands
An experienced businessman who leads by example. A stubborn man not given to incorporating new ideas. A mature individual who is impatient with youth. A person that needs quick thinkers around him. A need for a higher level of thinking. Powerful masculine energy. A person unwavering in thought and deed. Steadfast and true. An older masculine influence whose judgment can be trusted.
Astrology
The Sun determines how others see you. It represents your general personality and individuality. The Sun sign in your birth chart symbolizes your capacity to influence others, as well as your ability to impress. There is more to astrology than just your horoscope...