September 19 - September 25, 2022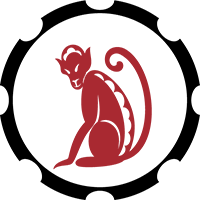 While the lucrative month of the Rooster doesn't end until Sunday and a Rooster Moon from Friday will help you get the most out of the final days, there is a reason for confidence from the start. While the month of the Rooster can be lucrative for the Monkey, it is not just about the money and if this has been a lucrative month or a lucrative few days, it is more a symptom rather than a cause. The Rooster's main focus is on boosting your confidence and a belief in what you deserve, knowing that financially or otherwise you can't attract what you don't believe you deserve. This creates a week where you are more likely to attract good things your way and especially over the weekend.
Year of the Tiger
Feb 1, 2022 - Jan 21, 2023
The good news for work and job matters is that while both the month and the Year of the busy and industrious Ox will end on 1st February, this can get this professional year off to the kind of start that you can continue to benefit from. The Ox is nothing if not determined, tenacious and goal focused, with a chance to establish the kind of work ethic and determination that you can continue to benefit from. Meanwhile, in the same way that every lunar year ends on the month of the Ox, every new lunar year begins on the month of the Tiger. The New Moon on 1st February is the Chinese New Year and for the first time in 12 years, this ushers in the Year of the Tiger. In the same way that we have seen a doubling of the Ox's influence in the final weeks of the Year of the Ox, we will also see a doubling of the Tiger's influence during the first four weeks of the Year of the Tiger.
The Monkey and the Tiger are opposing signs and you share nothing in common, but because this is your opposing sign this means you have reached the halfway point in your current personal 12 year lunar cycle. Halfway between the last Year of the Monkey and the next, the Tiger will spend from 1st February 2022 to 23rd January 2023 confronting you when it comes to living up to your intentions and personal truth. The Tiger's job is not just to point out where you may have veered off course or have forgotten your intentions, beliefs and the promises made to yourself in the past but to help you get back on track, offering a chance for a reset. The Tiger also puts the focus on your relationships, making this an important year for all your relationships but also for learning more about yourself.
It is through your interactions with others and through your relationships that you will come to better understand yourself, your needs and your priorities. Chances are you will sense an increase in instances where you don't feel that you are being treated fairly or that you have strong reactions to others actions. In reality, it is less an increase in those instances and more an increase in your awareness while at the same time it is never about the instance itself and more your responses. Your own personal needs are waking up and the only time they can happen is when they meet resistance or push back. Coupled with the Tiger's natural inclination towards change and freedom, you might start to experience a throwback to your teenage years when no one could be the boss of you or tell you what to do. Back then that was an awakening of the grownup you were starting to become and now you are experiencing it again, this time reawakening to your personal truth.
About the Monkey
Fun, confident, energetic and a free-spirit, the Monkey is well-liked by friends and family. Being cunning and quick-witted, they are highly-capable of formulating original thoughts and ideas. They are fast learners and adapt well to various situations.
Monkeys are generally unconventional and often ignore rules. They can be devious and will sometimes bend the truth to get what they want or to help a friend, albeit within reasonable limits. Monkeys are clever and confident tricksters.
Monkeys are very intelligent and find it easy to influence others. Despite this, you will sometimes get confused and discouraged. But, conversely, you will always be enthusiastic and really go for whatever you want to achieve.
A Monkey often finds it difficult to commit to one person for they are popular with everyone. As vivacious as they are, they are challenged when it comes to displaying charm and affection towards their potential partner. However, once the relationship is established, Monkeys make wonderful partners.
Compatible: Rats & Monkeys
Incompatible: Tigers
Strained: Snakes