December 4 - December 10, 2023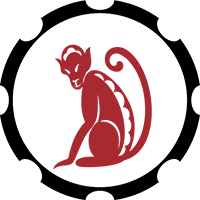 The last full week of the month of the Pig is a chance to take care of any housekeeping, literally or figuratively, ahead of the playful and creative month of the Rat which begins on next Wednesday's New Moon. For the Monkey, the Pig puts the focus on home and family matters but also on the routines and rituals of life, as well as domestic chores and a sense of duty. This is not a challenging month, but it is a month that can ask a lot from you, though with a chance to get a lot back in return. Yet as the week progresses and the playful and creative month of the Rat draws closer, there is likely to be a growing sense of anticipation as you start to crave the freedom to play.
Year of the Rabbit
Jan 22, 2023 - Feb 9, 2024
For the Monkey, the Year of the Tiger has been both challenging and empowering, as it is supposed to be. The Monkey and the Tiger are opposing signs, but halfway between the last Year of the Monkey and the next and of this current personal 12 year lunar cycle, its job has been to challenge you, because with this comes an opportunity for a reset and to take your personal power back. This also put the focus on your relationships and running its course on 21st January, the first three weeks of 2023 were still under its influence. This also made this a good year for setting New Year's resolutions that are aligned with living your personal truth.
While the Year of the Tiger will run its course on 21st January, the month of the Tiger will run from 21st January to 20th February, with a chance to tie up loose ends while the Year of the Rabbit gets underway. Running from 21st January 2023 to 9th February 2024, for the Monkey, the Year of the Rabbit not only puts the focus on your financial situation and money matters but on personal change and transformation. The Tiger will always wake you up to your personal needs and truth, but it is the Rabbit who allows you to take the next step, that of making the changes this has woken you up to. This makes the Year of the Rabbit a year of change and transformation.
You will get a better feel for this during the month of the Rabbit, which runs from 20th February to 21st March and then again as a leap month, from 21st March to 20th April. One of the most important months of any lunar year will always be the month of the Monkey, which this year will run from 16th August to 15th September. This is an important point in any year for checking in with your personal truth and story, but especially in a year that is all about change and transformation.
About the Monkey
Fun, confident, energetic and a free-spirit, the Monkey is well-liked by friends and family. Being cunning and quick-witted, they are highly-capable of formulating original thoughts and ideas. They are fast learners and adapt well to various situations.
Monkeys are generally unconventional and often ignore rules. They can be devious and will sometimes bend the truth to get what they want or to help a friend, albeit within reasonable limits. Monkeys are clever and confident tricksters.
Monkeys are very intelligent and find it easy to influence others. Despite this, you will sometimes get confused and discouraged. But, conversely, you will always be enthusiastic and really go for whatever you want to achieve.
A Monkey often finds it difficult to commit to one person for they are popular with everyone. As vivacious as they are, they are challenged when it comes to displaying charm and affection towards their potential partner. However, once the relationship is established, Monkeys make wonderful partners.
Compatible: Rats & Monkeys
Incompatible: Tigers
Strained: Snakes