December 4 - December 10, 2023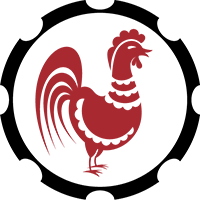 The last full week of any lunar month will always bring a call to make the most out of the final days of its influence as possible and that is especially so for the month of the Pig. For the Rooster, the month of the Pig is the Swizz army knife of any lunar year, with a tool for every occasion and in a way that can benefit every aspect of your life. It is not just that the Pig makes it easier to remain mentally focused, keep the communication lines open and think on your feet, but that these are things that come naturally to the Rooster. This makes this an important week for anything that requires mental focus or where having the communication lines open is important.
Year of the Rabbit
Jan 22, 2023 - Feb 9, 2024
The busy and industrious Year of the Tiger will end on 21st January, getting the year off to a busy start. This was a year that demanded a lot from you and whether at work or with anything that keeps you busy or occupies your time, there has been little idle time over much of the last 12 months. For the diligent Rooster, this is something that you wouldn't have shied away from, instead rolling up your sleeves and getting on with what had to be done, doing whatever it took for as long as it took. The Rooster doesn't know when to stop and the Tiger wasn't going to tell you when to stop. This means there could have been more than a few Roosters suffering from burnout as we moved into 2023.
However, help is not only at hand but the rewards for what has been invested will be far reaching and will continue long after the Year of the Tiger ends on 21st January. Yet life won't suddenly become less busy, with the month of the Tiger running from 21st January to 20th February. However, this will scale down, giving you four weeks to transition out of this busy influence, which after 20th February will only show up during a Tiger Moon, which will come around every four weeks. Meanwhile, it is on 21st January that the Year of the Rabbit begins, something that will not only bring you to the halfway point in your current personal 12 month lunar cycle but will put a lot more focus on your relationships.
You will have a chance for a deeper dive into this during the month of the Rabbit from 20th February to 21st March and then again, with a leap month from 21st March to 20th April. If you are looking for a chance to recharge your batteries after a busy year, the adventurous month of the Dragon, from 20th April to 19th May, would be a good time to plan an escape or just a chance to embrace the more adventurous side of life. Meanwhile, one of the most important months of any year for you is the month of the Rooster, with a chance to check in from 15th September to 14th October.
About the Rooster
A Rooster is brave, funny and witty. Entertaining and performing puts them in the center of attention, which is exactly where they enjoy being. They can be picky, vain and critical.
Roosters can be really eccentric and sometimes may seem selfish in their way of life. They are devoted to work and lifelong learning. Confident, motivated people, they may sometimes come across as pompous. While they can be brutally honest, they are also loyal and trustworthy.
Roosters are intelligent creatures that are reliable and self-efficient. They are good with money and sometimes manage other people's money better than their own. Punctual people with highly-disciplined minds, Roosters boast excellence at organizing people and things. They also love to be praised for it.
They are prone to changeable mood surges that leave them either extremely happy or very miserable. Similarly with their opinions and personal relationships, Roosters have no place for apathy in their lives. They either like or dislike intensely.
Compatible: Oxen & Snakes
Incompatible: Rabbits
Strained: Monkeys & Dogs