November 28 - December 4, 2022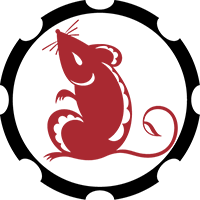 Last week's New Moon not only ushered in the month of the Rat and with it a chance to return to your native energy but brought you to the start of a new personal 12 month lunar cycle. While the month of the Rat will run for four weeks, it is during this first full week and while the Moon is still in its waxing or growth phase that there is a chance to get as many options on the table as possible. It is not until after next week's New Moon that you will need to start narrowing things down and defining your intentions and resolutions for the journey ahead. Until then, it is all about not just exploring your options but in a way that dares you to imagine what's possible.
Year of the Tiger
Feb 1, 2022 - Jan 21, 2023
The New Moon that will bring both the month and the Year of the Ox to an end on 1st February brings us to the Chinese New Year. Every new lunar year will always begin on the month of the Tiger but this year, for the first time in 12 years this also ushers in the Year of the Tiger. For the Rat, the month of the Tiger is the Swiss Army knife of any lunar year, with a tool for every occasion. The Tiger makes you smarter, more articulate, finding it easier to not only think on your feet but to express yourself, something that almost every aspect of your life can benefit from. While the month of the Tiger will run its course on 2nd March, the Year of the Tiger will ensure you retain this advantage right through to 23rd January 2023. This also gives you access to the Tiger's cunningness, ability to hunt its prey and put in fast bursts of activity in order to win the prize.
Because of the Tiger's wide sphere of influence, unlike other years where there is a more narrow focus or a specific theme, that is not the case this year. Where other years may have been especially good professionally and others financially or in other specific ways, the Year of the Tiger is going to be a good year in all areas but without singling anything out. Whether you channel the Tiger's influence into having the communication lines open on the relationship front or to being on top of your game professionally is something that you get to choose from. This is what really does make the Year of the Tiger the Swiss Army knife of any 12 year lunar cycle, with a tool for every occasion, while making you the sharpest pencil in the box.
What you will find is that as you reach each new lunar month the Tiger will have something it can focus on a little more. For example, during the month of the Rabbit, the Tiger's influence will have a positive impact on the home and family front from 2nd March to 1st April. Every four weeks the Tiger's influence will become more effective in different areas of your life, moving in progression from home and family matters onto matters of the heart, work and job matters, your relationships, money matters, working on your bucket list, your professional game to your friendships, all in four week blocks.
About the Rat
Rats are always honest, and they are observant and curious. They are energetic, talkative and others can find them witty and charming. However ambition can make Rats ruthless and aggressive. They may find it hard to save, as they like to spend the money they earn and enjoy a good life.
The Rat is intelligent, charming, social and likeable. They are extremely good with money and are often thrifty. Although at times they can be economical to the extent of miserliness. Rats will spend lavishly under 3 circumstances: when they are in love, to further their long-term or career goals, and on collectibles if they are collectors. Rats are collectors by nature.
They are hard-working, innovative and full of ideas. Rats are almost always ambitious. Combined with the knowing of how to take advantage or make the best out of a situation, they are often successful at getting what they want out of life.
Rats are good at hiding their emotions, which often leads other to perceive their cool exteriors as those that are not easily roused. They sometimes have difficulties communicating their feelings. People born under this animal sign are frequently nocturnal.
Compatible: Dragons & Monkeys
Incompatible: Horses