September 18 - September 24, 2023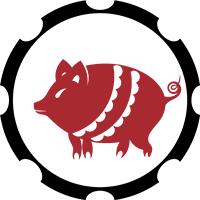 As you move into the first full week of the social and serendipitous month of the Rooster you are just starting to get a feel for its influence. With the Moon still in its early waxing or growth phase this is something that you are not only still adjusting to but itself is still building and yet to fully manifest, with its influence likely to strengthen as the week progresses. For the Pig, this is a busy and vibrant month and its focus on your social life, friendships, teamwork and networking meaning there are likely to be places to go and people to see. This might start out small, but this is set to increase, making it important to set some boundaries from the start. This might be all about being a team player, but you still need time for yourself.
Year of the Rabbit
Jan 22, 2023 - Feb 9, 2024
While to begin with, as you moved into 2023 there was no sign of what is to come, you are about to move into one of your best years in a decade. While the Year of the Rabbit begins on 21st January but won't come into full effect until four weeks later, this is the year that you have been waiting for and the year that you need, whether you know it yet or not. Until then, you not only had the final weeks of the Year of the Tiger and its focus on home, family and/or property matters to navigate but of the month of the Ox and its focus on communication, which both run their course on 21st January. While the Year of the Tiger will end on 21st January, with the month of the Tiger running from 21st January to 20th February, there will be a chance to keep the focus on home and family matters going for a few more weeks and even tie up any loose ends.
At the same time, starting the year in the month of the Ox was a huge advantage. For the Pig, the month of the Ox is the Swizz army knife of any lunar year, with a tool for every occasion. The Ox gave you an intellectually savvy edge, which allows you to think on your feet but also makes you more articulate, something that got 2023 off to a good start. However, for you, the year really begins on 21st January, when a New Moon will kick off the fun, playful, romantic and creative Year of the Rabbit. It is not just that this will be a more fun, creative and relaxed year, but the Rabbit and Pig are part of the same triad of affinity.
Life will run more smoothly under the Rabbit's influence, with a greater focus on matters of the heart or just on following your heart. This is also a good year for anything creative, with the Rabbit's influence coming into full force during the month of the Rabbit from 21st February to 21st March, with a leap month bringing a second month of the Rabbit from 21st March to 20th April. The busy and industrious month of the Dragon from 20th April to 19th May and the competitive and professionally charged month of the Monkey from 16th August to 15th September will give this professional year what it needs, but it is the other side of life's fence that will have your attention this year.
About the Pig
The Pig is self-sacrificing, sincere and merry. They may come across cynical and brash in the beginning, but underneath the tough exterior is a perfectly softhearted and decent soul.
A Pig is noble and strong. They make great friends, although not always easy friends. Pigs expect their own generosity to be reciprocated equally by friends or they may quickly end the relationship. They also possess a reckless streak that can make them difficult to handle.
Pigs are noble and chivalrous people who are compassionate, diligent, generous, and fun to be with. They maintain lifelong friendships, yet even if they marry someone from their ideal partners, the relationships are likely to be rocky.
Despite the fact that they are good-humored, sociable and cheerful, tact is not one of the Pig's best virtues. They do not fare well in diplomatic careers. A Pig's emotional temperature is easily raised. They have strong sexual desires and physical love is very important to them. Pigs make loyal and loving partners.
Compatible: Horses & Tigers
Incompatible: Dragons
Difficult: Rooster